Oklahoma City Community College will offer a Virtual Lean Six Sigma Green Belt Certification course beginning March 29th, 2012.  The 8 week course will afford participants the ability to learn lean six sigma methodolody and receive their Green Belt Certification almost completely online.  Participants will have 24/7 access to the online training modules and be required to attend instructor led "virtual classes" once a week.  The course has a 3-Day Capstone Project where participants must attend class to complete the simulation for their Certification. 
Tuition is only $2,995.00 and includes instructor, training materials, Sigma XL Software and access to online training portal.  Please contact PDI at OCCC to enroll.  405.682.7562 or rcantrell@occc.edu
Electronic Medical Records Technician
Would you like to have a health career that helps people but keeps you in an office setting? Would you like to have a career in a field that is expected to grow much faster than the average? Electronic Medical Records Technician may be the career for you.
Prepare yourself to work with any commercial software used in the medical office today. Learn about billing, office management, office computer skills and office procedures, all with a primary focus on healthcare. This course is approved by the American Academy of Professional Coders (AAPC) and American Nurses Credentialing Center (ANCC).
| | |
| --- | --- |
| Pre-requisite: | Keyboarding Skills |
| Hours: | 54.00 |
| Length of Course: | 12 weeks (extension fee charged if not completed on time) |
| Cost: | $614.00 (course) + $75.00 (textbook) = $689.00 |
CURRICULUM
| | |
| --- | --- |
| Introduction to Computers | Medical Practice/Management Software |
| Basic Management Concepts | Fundamentals of Medical Insurance |
| Patient Registration/Data Entry | Procedure Posting Routines |
| Insurance Billing Routines | Posting Payments/Secondary Insurance Billing |
| Patient Billing and Collections | Secondary Insurance Payments, Claims Follow-Up |
To register, please contact Rhonda Cantrell, rcantrell@occc.edu, (405) 682-7562.
For additional information, please contact Francine Gissy, fgissy@occc.edu, (405) 682-7856
Corporate Learning and The Quality Group now offer 8 D Training
Corporate Learning at OCCC provides local organizations with a resource for process improvement initiatives.  Course are facilitated via an E-blended learning format that utilizes in-class, hands-on applications in addition to online coursework to enhance the learning experience.  8 D Training is customized to your organization's specific requirements and can be implemented across industries.  Below are the following steps for effective implementation of the 8 D Methodology:
**The Planning Phase: Plan for solving the problem and determine the prerequisites.
1: Use a Team: Establish a team of people with product/process knowledge.
2: Define and describe the Problem: Specify the problem by identifying in quantifiable terms the who,     what, where, when, why, how, and how many (5W2H) for the problem.
3: Developing Interim Containment Plan Implement and verify Interim Actions: Define and implement containment actions to isolate the problem from any customer.
4: Determine and Identify and Verify Root Causes and escape points: Identify all potential causes that could explain why the problem occurred. Also identify why the problem has not been noticed at the time it occurred. All causes shall be verified or proved, not determined by fuzzy brainstorming.
5: Choose and verify Permanent Corrective Actions (PCAs) for root cause and Escape point: Through pre-production programs quantitatively confirm that the selected corrective actions will resolve the problem for the customer.
6: Implement and validate PCAs: Define and Implement the best corrective actions.
7: Prevent recurrence: Modify the management systems, operation systems, practices, and procedures to prevent recurrence of this and all similar problems.
8: Congratulate your Team: Recognize the collective efforts of the team. The team needs to be formally thanked by the organization.[1][2]
8D has become a standard in the Auto, Assembly and other industries that require a thorough structured problem solving process using a team approach.
http://en.wikipedia.org/wiki/Eight_Disciplines_Problem_Solving
Please contact Corporate Learning at 405.682.7853 or jclaybon@occc.edu for more info.
Corporate Learning at Oklahoma City Community College
offers a "higher degree of learning" by developing unique and innovative solutions for the lifelong learning needs of employees in business, governmental and not-for profit organizations.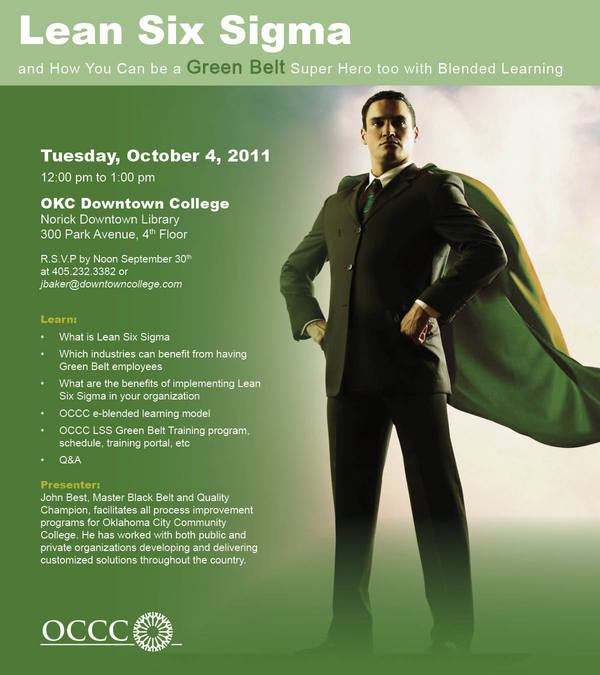 Space is limited for this free event, please R.S.V.P. by noon, September 30th.
For more information about this event, contact Jimmie Sue Baker at 405.232.3382 or jbaker@downtowncollege.com.

Subscribe to our Newsletter  •  Visit our website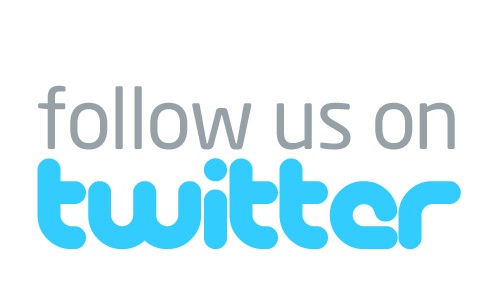 ---
Oklahoma City Community College
7777 S. May Avenue
Oklahoma City, 73159
US
Lean Six Sigma Green Belt Certification
The Lean Six Sigma Blended Green Belt course artfully blends the process improvement tools of Lean with the problem‐solving tools of Six Sigma following the DMAIC (Define, Measure, Analyze, Improve, and Control) model. Green Belt certification will help the participant play a major role in process improvement projects as a team member or leader of projects within his or her functional areas. During this training you will learn to apply some very powerful problem solving tools and basic statistical techniques which will allow you to contribute to the success of your organization.
Classes begin November 8, 2011.  To register please contact Rhonda Cantrell at 405.682.7853 or rcantrell@occc.edu.